The race to upgrade China's manufacturing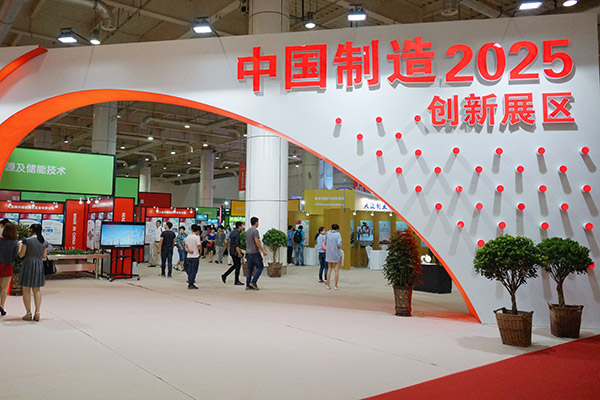 The "Made in China 2025" area at the China International Patent Fair 2016 in Dalian, Liaoning province. Premier Li Keqiang introduced the Internet Plus and Made in China 2025 policies to redirect China's manufacturing model in 2015. [Photo provided to China Daily]
Experts focus on middle-income trap and green concerns
Countries, like companies, have to change their business models as world circumstances change.
In the early 2000s, China's development model was based on low-wage manufacturing combined with high savings and investment rates. The very success of that model in drastically raising living standards has now led the Chinese government to adopt an ambitious set of policies to upgrade China's industry, to escape the so-called middle-income trap and to support a green environment.
At a meeting of the State Council, China's Cabinet, in May 2016, Premier Li Keqiang said of the country's industrial business model: "China is already a big manufacturing nation, but far from a manufacturing power.…Integration of manufacturing and the internet is an inevitable path of modern industry."
Justin Lin Yifu, director of the Center for the New Structural Economics at Peking University, in a recent article in the Journal of Chinese Economic and Business Studies, outlined the theoretical rationale for China's industrial policy:
"The middle-income trap is a result of a middle-income country's failure to have faster labor productivity growth through technological innovation and industrial upgrading than high-income countries. Industrial policy is essential for the government of a middle-income country to prioritize the use of its limited resources to facilitate technological innovation and industrial upgrading."
Huge capabilities
China has enormous manufacturing capabilities. According to the Ministry of Industry and Information Technology, China's output ranks first in the world in 220 out of 500 major types of industrial products. It also has world-leading infrastructure, which puts it in a different class from other middle-income countries.
But China's comparative advantage no longer lies with low-wage mass manufacturing. According to a study by the Boston Consulting Group, manufacturing costs in China rose from about 86 percent of the US level in 2004 to about 96 percent in 2014.
"China is being pressured from both sides," an unidentified MIIT official told Xinhua. "Advanced economies such as the United States, Germany and Japan have all formulated policies supporting further development of their own manufacturing. At the same time, emerging economies such as India and Brazil are catching up with their own advantages."
Over the past 15 years, China's real wages have gone up eightfold. This is a good thing in that it raises the living standard of the people, but it forces companies to find higher value-added products.
During the same period, many Western manufacturing companies, particularly in Germany, Japan, the UK and the US, invested heavily in becoming automated and efficient. Meanwhile, fracking technology cut energy costs in the US.
"The government knows clearly that manufacturing is the existing competitive advantage. For the past few years, people have been saying that China's manufacturing is big but not that strong. Given the scale, the government is trying its best to upgrade it to a new shape. They want to do it fast because time is very constrained. In five years, 10 years at most, we will see a new structure of leading countries. The fourth industrial revolution is already going on," said Zhai Xin, associate professor at Peking University's Guanghua School of Management.
The 13th Five-Year Plan (2016-20) concentrates on a set of policies to create an "optimized modern industrial system" that can deal with this new environment.
"With a focus on carrying out deep structural adjustment and revitalizing the real economy, we will move ahead with supply-side structural reforms, foster new industries while upgrading traditional ones, move faster to put in place a new modern industrial system that has strong innovative capabilities, provides quality services, is based on close collaboration and is environmentally friendly."
The Internet Plus and Made in China 2025 policies introduced by Premier Li in 2015 aim to redirect China's model by using technology to move traditional industries to higher value-added products and to invest in creating new capabilities in 10 new high-tech industries.
Financing the upgrade
Recognizing that industrial upgrading is key to the future economy, the government is putting big money behind its policies, but it is also striving to ensure a high level of market input.
In August last year, the government announced the creation of a $30 billion venture fund especially targeted to boost industrial technology. Somewhat smaller funds have more specific targets.
According to the research company Merics, the Advanced Manufacturing Fund will insert capital worth $3 billion into industrial technology upgrading. The National Integrated Circuit Fund has $20 billion and the Emerging Industries Investment Fund holds almost $6 billion.
In addition, local and provincial governments will setup funds to support industrial upgrading in their regions. By comparison, the German government is devoting only $225 million, and German companies plan to spend about $12 billion over the next decade on the so-called Industry 4.0 upgrading, according to Experton Group, a business consultancy.
The government funds seek to guide market investors, not to provide majority State funding. According to Chen Shaozhi, a senior journalist who heads the Made in China 2025 team at Xinhua News Agency's Economy and Nation Weekly: "The government may lead the industrialization fund, but it is very commercialized. The government puts in a little money. Then the banks, investment companies and venture capital funds all can invest together.
"This type of guidance is similar to the way the government has encouraged private investment in high-tech Silicon Valley-like areas such as Zhongguancun in Beijing. The main goal in traditional manufacturing is to help the entrepreneur make money and survive in the market.
"Everyone, government officials and businesspeople, understand that industry has to upgrade. If you don't upgrade, you will be expelled from the market. If you upgrade, it may bring some hurt. But, if you don't upgrade, the only question is whether you die early or die late."