Iron and steel sector profit set to soar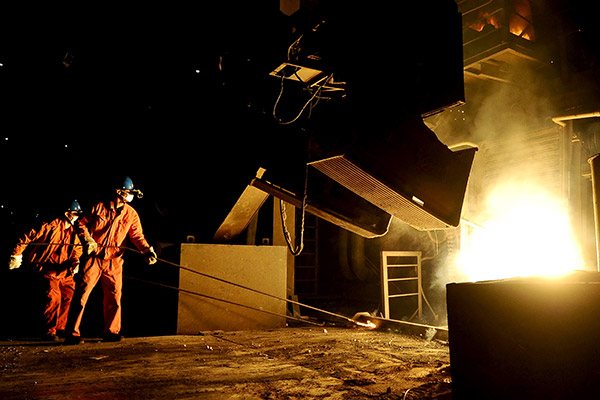 Workers operate at a steel plant in Dalian, Liaoning province. [Photo/China Daily]
First-half financial performance strong on back of supply-side reform
China's ferrous metal industry is set to post a strong performance in the first half of the year on the back of government measures to cut overcapacity and optimize the industry's structure, experts said.
"With the reduction of excess capacity, there is a tight supply of iron and steel, leading to high prices, especially wires and rebars," said Wang Guoqing, research director at the Lange Steel Information Research Center in Beijing.
The government's thrust on supply-side reforms has produced positives, Wang said.
Around 20 listed firms in the iron and steel sector have forecast their earnings for the January-June period.
HBIS Co Ltd said its first-half profit will likely be between 1.15 billion yuan ($148 million) and 1.27 billion yuan, up 181-210 percent year-on-year.
If its forecast holds, that would be the third highest growth rate in the 20 years since the company listed on the A-share market.
Similarly, Fujian Sansteel Minguang Co Ltd said it expects its first-half profit to rise 200 percent year-on-year to 1.08 billion yuan.
"The main reason (for the good performance) is the government's efforts to eliminate outdated capacity, especially inferior steel," said Li Xinchuang, president of the China Metallurgical Industry Planning and Research Institute.
By June 30, China had shut all companies that produce inferior steel. More than 500 such companies whose combined capacity was 119 million metric tons were shut, according to a statement from the China Iron and Steel Association.
On Thursday, the Lange Steel Composite Steel Price Index reached 144.9, up 7.4 percent from the beginning of the year.
The Long Steel Products Price Index was at 159.8, up almost 19 percent from early January. The Flat Steel Products Price Index, however, was down almost 3 percent at 131.9.
Long steel products include rebars and wires, and flat plate steel products are hot-rolled steel plates, cool-rolled plates and medium plates.
The rebar price is 3, 928 yuan per ton, up by 676 yuan from the beginning of the year.
"Although data show that the total steel output has increased in the January-June period, the demand has shifted from informal products such as inferior steel to qualified steel made by major steel companies. That means, the supply is not adequate to meet the current demand," said Wang.
At the same time, iron ore prices are comparatively low thanks to rising output, oversupply, and high port inventories, Wang said. "Low material prices help keep steel production costs at relatively low levels."
China imported 539 million tons of iron ore in the first half, up 9.3 percent year-on-year, while the country's iron ore production was 508 million tons in the first five months, up 10.4 percent, according to data from the Lange Steel Cloud Platform. Low costs and high prices are expected to boost companies' profits.
Li said rising infrastructure investment, automobile production and machinery manufacturing in the first half of the year will also likely expand steel consumption.
Total profit of major iron and steel companies was 37.9 billion yuan in the first five months of this year, exceeding full-year combined profit of 33.15 billion yuan in 2016, according to the China Iron and Steel Industry Association.
According to the National Bureau of Statistics, the January-May operating income of the ferrous metal smelting and rolling process industry was 3.02 trillion yuan that generated a profit of 105.3 billion yuan, up 93.5 percent year-on-year.
Gan Yong, president of the Chinese Society for Metals, however, said overcapacity reduction should be continued with the same level of determination in spite of the current profits. "Once the companies increase their output production, prices will decline immediately."