Wine region in Ningxia developing global fame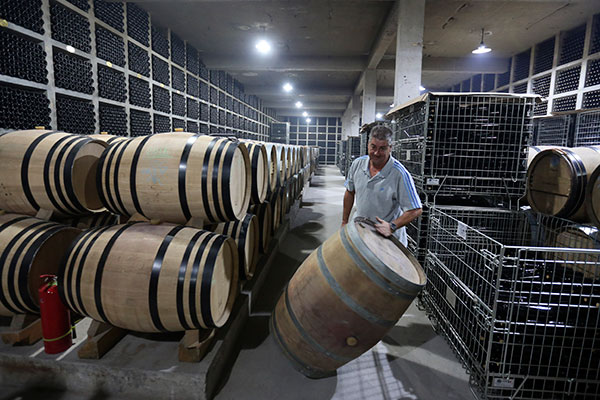 Thierry Courtade, a winemaker from the French Bordeaux region, rolls an empty wine barrel along this month at Silver Heights winery, which he runs with his wife, Emma Gao, in Ningxia Hui autonomous region. FENG YONGBIN/CHINA DAILY
Dozens of winemakers from 18 renowned wine producing countries are eagerly awaiting a competition on Tuesday for wines made from grapes grown in a very promising region of China.
For the past two years, 48 international experts have brought winemaking philosophies and techniques from both the new and old worlds of wine, like South Africa and Italy, to the emerging wine region, the Eastern Foothills of the Helan Mountains in the Ningxia Hui autonomous region.
Each has received a 3-hectare parcel and been paired with a local winery to produce a cabernet. A total of 700,000 yuan ($105,000) in prizes is up for grabs in the Ningxia-sponsored competition.
But more important than the competition is the creativity and development that is fermenting in the area.
Winemakers often travel around the world to sharpen skills and work with different terroirs, the combination of soil, environment and farming practices that weigh heavily on a wine's quality. But the emerging Chinese region has garnered international attention relatively recently.
"No one wants to waste their time. They came because they believe this piece of land can make legends," said Cao Kailong, director of the Ningxia Bureau of Grape Industry Development, organizer of the competition.
Wines from the Eastern Foothills of the Helan Mountains have made a splash after winning more than 200 international prizes. Jancis Robinson, a respected international wine critic from the United Kingdom, has praised the region as one with the potential to soon produce world class wines.
The region yearly receives 1,700 to 2,000 hours of sunshine and little rainfall, 150 to 240 mm, while its cool nights help grapes develop acidity and flavor. The Yellow River, which runs through the area, has helped make its soil composition a favorable mixture of sand, clay and minerals. An altitude of about 1,300 meters and extremely dry air mean no pesticides are needed to keep the vines healthy.
The region has about 40,000 hectares of vineyards, the second largest in the world after France's Bordeaux, and there are 83 established wineries and 113 more being built, Cao said.
"The presence of international winemakers has been helping improve the quality of the wines and enrich the local winemaking technique and winery management," Cao said.
"Locals can learn from their experienced partners who bring their knowledge, ideas and techniques. Their presence has also developed our confidence in China not only being a big consumer of wines but also capable of becoming a major producer of fine wines," Cao said.
Renger Mathias, an Austrian winemaker and participant in the international winemaker competition in Ningxia, said, "I want to be part of the team that helps the Chinese wine industry to become a landmark on the global wine map, to reflect the worldwide unique terroir."
Unlike other international contestants who visit Ningxia periodically, French winemaker Thierry Courtade chose to settle down for romance and wine after serving 23 years at Chateau Calon Segurin, a winery in Bordeaux.
"This is my wife's hometown," he said.
Courtade became acquainted with Chinese wines and the region through his wife, Emma Gao, who was a young intern at the Bordeaux winery.
"The wine industry in France has developed to such a high level that it has reached its limit. But here in Ningxia, I am able to try new things, planting different grape varieties that suit the soil and applying different winemaking techniques," Courtade said.
While Bordeaux has strict laws specifying which varieties of grapes, materials and techniques can be used in certain regions, Ningxia is open to all trials and has yet to legislate the similar rules, Courtade said.
At their winery, Silver Heights, the couple planted such grape varieties as cabernet sauvignon, merlot, chardonnay, syrah and marselan, and applied various planting techniques from France, Israel and New Zealand.