Robust transport network shapes dreams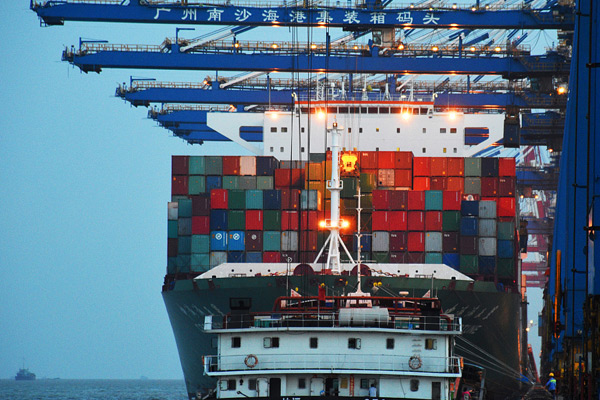 Equipped with an all-round transport network consisting of seaports, an airport, railways and highways, Guangzhou is developing into an international communications hub.
Guangzhou is one of the starting points of the Ancient Maritime Silk Road. It has long been the access to the sea for South China and its neighboring regions and has been China's most important foreign trade port.
Its shipping routes cover over 400 ports in more than 100 countries and regions.
In 2016, cargo throughput of Guangzhou Port Group-the company that is responsible for the seaports in the city-hit 544 million metric tons, ranking No 4 in China and No 6 worldwide.
Its container throughput totaled 18.86 million 20-feet-eqivalent units (TEUs), marking a 7 percent growth year-on-year and ranking it No 4 domestically and No 7 globally.
Among the four ports under Guangzhou Port Group, Nansha Port is a shining star.
Although it is the youngest one, Nansha Port has already established multiple operations for shipping containers, automobiles, grains and petrochemicals. In 2016 alone, Nansha Port's container throughput reached 12.62 million TEUs, up 8.1 percent from a year ago.
"The Belt and Road Initiative will help us to build Nansha Port into a major international trade hub," said Song Xiaoming, deputy general manager of Guangzhou Port Group, which controls Nansha Port. So far, Nansha Port has opened 115 container shipment routes, 82 for foreign trade and 33 for domestic trade.
"Based on the Nansha Free Trade Zone, the port proactively takes part in the Belt and Road Initiative and promotes the construction of the Guangdong-Hong Kong-Macao Greater Bay Area," said Luo Zheng, an official from the Guangzhou Commission of Commerce.
Guangzhou Baiyun International Airport is one of China's top three international airports and one of the busiest airports in Asia and the world. By the end of 2016, the airport had connections with more than 200 shipping points in more than 40 countries and regions. Last year, passenger throughput in the airport hit 59.78 million, ranking No 16 globally.
Guangzhou is also one of the four railway hubs in China, as it is on the crossroads of the Beijing-Guangzhou, Guangzhou-Shenzhen, Guangzhou-Zhuhai railways and others.
A large number of high-speed railways also link Guangzhou with the rest of the country, including the Beijing-Guangzhou, Guangzhou-Shenzhen-Hong Kong, and Guiyang-Guangzhou Nanning-Guangzhou lines.
The passenger throughput of the railway stations reached 143 million in 2016, and freight transportation hit 48.84 million tons.