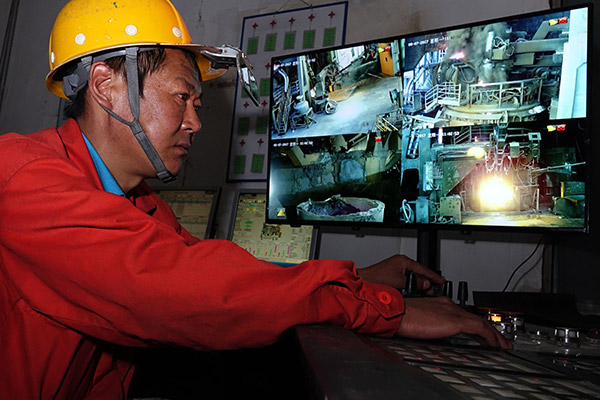 A steelmaker operates electric smelting furnaces in the central control room at Dalian Special Steel Products Co Ltd, part of Dongbei Special Steel Group. [Liu Debin/for China Daily]
Smart systems and automation have curbed pollution and increased energy efficiency in the heavy industry sectors
Blazing furnaces at temperatures of more than 1,000-degree Celsius, belching out flames and sparks, are visions usually associated with steel mills and iron works.
Men dressed in dark overalls and wearing hard hats complete the picture as they patrol the smelting process in near suffocating heat.
But those images are gradually fading here as major players in heavy industry modernize to help combat air pollution as part of the government's "Made in China 2025" initiative.
To comply with tighter environmental regulations, HBIS Group's Tangsteel Co has rolled out automated systems and used big data technology to check emissions at its automobile steel plate production plants.
Digital systems have also helped reduce energy consumption, as well as automated giant cranes that resemble lumbering dinosaurs from the Jurassic age.
"By upgrading the industry through technology, we are effectively improving the quality of the product," said Zhao Zhenrui, director of the information and automation department at Tangsteel.
While a great deal of the heavy-lifting equipment has not changed, smart systems have been attached and connected up.
Independently developed by the company, this control and management network is at the heart of the group's modernization plans.
"For example, we adopted an auxiliary system of intelligent dispatch, control and sensors on the cranes," Zhao said. "They are all unmanned and energy efficient."
Tangsteel is one of the cleanest factories in the world, according to the steelmaker's website, after developing a program which conserves energy, and cuts emissions by cleaning up production and recycling waste.
Rivals such as China Baowu Steel Group and Magang (Group) Holding Co Ltd have also developed smart systems. In April, Magang invested 14 million yuan ($2.1 million) in robotic equipment.
Still, even State-owned steel and iron companies will need substantial government backing in the long term to complete extensive upgrading programs.
"Relying on companies alone will not achieve a high level of smart manufacturing," said Wang Guoqing, chief analyst at Lange Steel Information Research Center in Beijing.
"The process should involve the government, social organizations and scientific research institutions," Wang added, pointing out that funding and technological support were essential.
While manufacturing equipment is highly advanced at most Chinese steel plants, the "information processing and control systems" are not.
Quality not quantity is becoming crucial, according to Zhou Yusheng, a professor at the Central Iron and Steel Research Institute Group in Beijing.
"China's crude steel production capacity is the largest in the world, but its high-end steel output capacity is inadequate," he said.
Total crude steel output was 491.55 million metric tons between January to July.
This accounted for 50.3 percent of the 60 World Steel Association countries' total of 977.32 million tons, data from Lange Steel Information Research Center highlighted.
"But special (high-end) steel accounts for about 10 percent of China's total output, compared to around 20 percent in developed economies," said Yang Zhiyong, director of the Special Steel Institute under the Central Iron and Steel Research Institute Group.
"Although our companies and research institutes have achieved (excellent) results, some domestic special steel companies cannot apply them in large-scale production because of high costs," he added.
Various kinds of "special steel" have been developed but have yet to reach the marketplace, Wang at Lange Steel Information Research Center pointed out.
"Large steel companies have cooperated with universities and research institutions in an effort to develop high-end quality steel products, so as to take a hold on the market," she said.
Steel is crucial across an array of sectors from constructing suspension bridges to building container ships, and from hotels to high-speed train networks.
But overcapacity has weighed heavily on China's overall economic performance in recent years until new reforms were set in motion.
"Our target was to eliminate 100 million to 150 million tons of capacity within five years, but actually we've accomplished that goal in two years," Xia Nong, a senior official with the National Development and Reform Commission, said at a meeting in July.
Data also showed that during the first six months, China closed down more than 600 companies that produced inferior steel, with a production capacity of 120 million tons.
"It is an arduous task to prevent the revival of (producing) inferior steel and the illegal construction of electric furnaces," said Jin Wei, chairman of China Iron and Steel Association.