Major M&A activity is put on hold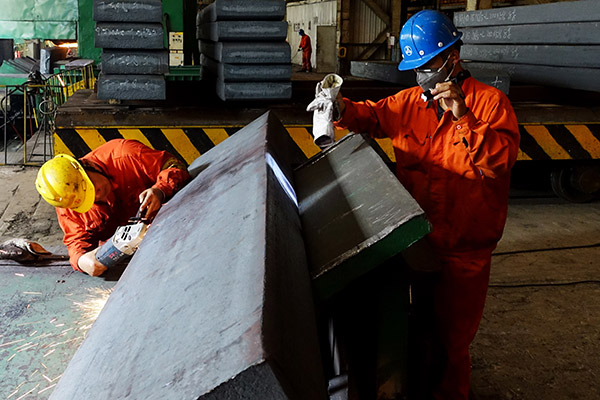 Workers at Dalian Special Steel Products Co Ltd, part of Dongbei Special Steel Group, check the surface of a flat stab grinding mold. [Liu Debin/for China Daily]
Streamlining the iron and steel sectors has gathered pace during the past few years.
Mergers and acquisitions have increased as the government looks to curb overcapacity and modernize the industries.
But further M&A activity this year is unlikely as regulators grapple with serious challenges, industry insiders point out.
"The iron and steel sectors are different from other manufacturing industries," said Wang Guoqing, research director at the Lange Steel Information Research Center. "There are many obstacles for Chinese steel enterprises to overcome before they can merge with each other."
Untangling red tape will take time.
Many of these heavy manufacturing mills and smelting plants belong to different arms of government or joint organizations, while others are privately owned.
Management styles also differ from one company to the next, while revenue streams vary. Employment levels are another crucial issue.
"Steel companies usually contribute a lot to local taxation and employment," said Wang. "But they tend to belong to different levels of governments or local organizations, while some are privately owned.
"Furthermore, management style and profit-making inside these operations vary, which may cause problems after merging," she added.
Last year, Baoshan Iron and Steel, and Wuhan Iron and Steel combined under the ownership umbrella of the State-owned Assets Supervision and Administration Commission.
This was part of the government's plan for the top 10 companies to produce between 60 to 70 percent of the steel made in China by 2025.
In 2016, steel output by the big 10 was 289.95 million metric tons, or just 35.8 percent of the country's total, way below the State Council's guidelines.
"As industrial and economic environments change, the regulators have to take a lot of things into account, so as to realize a smooth transition," said Wang Ning, analyst at JLC Network Technology Co Ltd in Zibo, Shandong province.
But the rewards are considerable. Leaner operations will help companies improve their bargaining power for iron ore and reshape downstream sectors.
Even so, many steel companies still prefer to stay independent, according to one industry expert.
"Most iron and steel companies are focusing on two things," said a steel company executive who declined to be named. "First, to ensure high and stable yield, and second to reach the required environmental protection standards."